Facility Condition Index (FCI): The Key to Effective Data Center Operations Management
Knowing the current physical condition of your data center's facility and assets is critical for maximizing efficiency and developing a capital plan. But traditional methods of calculating a Facility Condition Index (FCI) are time consuming, prone to error, and outdated the moment they're calculated.
Download the eBook to learn:
8 out of 10
of the world's top global banks
3 out of 4
of the world's top co-location and hyperscale providers
In 94 countries across all 7 continents
Produce Actionable Insights With MCIM
Drive Digitized Processes, Operational Workflow and Business Intelligence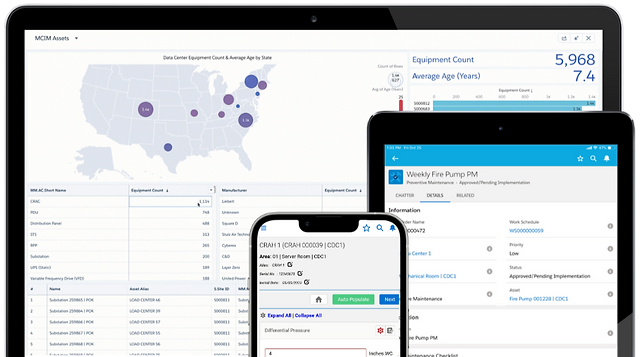 Easy
Gain valuable insights into your organization and enjoy the fine balance between usability and sophistication with the customization and flexibility of our products.
Fast
Be ready for auditors, compliance and diligence programs in real-time, all the time. Standardize, execute and track critical procedure progress and quality with digitization.
Secure
Implement custom solutions to meet your security needs. Built on top of Salesforce, MCIM leverages all of the power and security used by thousands of institutions worldwide.
One Single Source of Truth
Efficient, Reliable and User-Friendly
Maintenance Management Software
Track work and gain insight into machine health to
optimize equipment, infrastructure, facilities or
operations use, availability and life span.